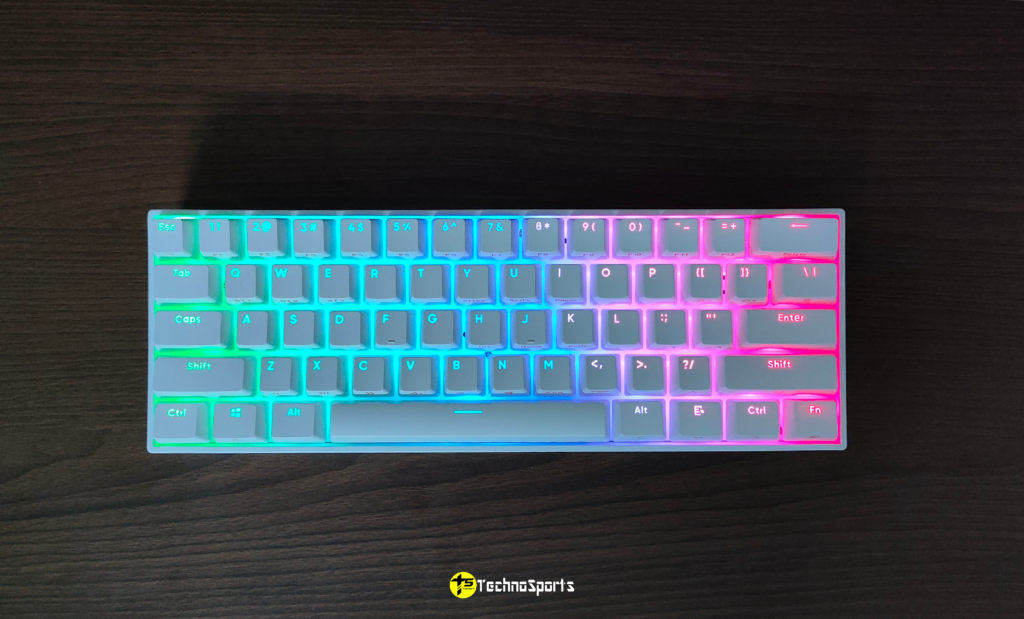 Why Zebronics ZEB-MAX NINJA is the best 61-key wireless mechanical RGB keyboard?
Zebronics ZEB-MAX NINJA is the company's latest offering in the 60% wireless mechanical keyboard segment, which also comes with RGB backlit keys and a total of 61 detachable blue click keys. It has a function to simultaneously connect up to 3 Bluetooth devices, 2.4GHz Nano USB, Type-C wired mode, built-in rechargeable battery and N-key rollover. Zebronics ZEB-MAX NINJA is available in black and white.
In this article, we will discuss this keyboard in detail, and at the end, we will discuss whether you should buy this keyboard or not.
Zebronics ZEB-MAX NINJA Specifications and Features:
60% (61 Key) Wireless Mechanical Keyboard (Black/White Color Variants) to help you save table space with an easily portable size and minimalist design.
Multi-connection / multi-mode use with max. 3 Bluetooth connections, a 2.4GHz RF wireless nano-receiver and a detachable Type-C cable for wired mode of use.
Quick switch between 3 Bluetooth connections (smartphone, tablet, laptop, etc.)
Compatible with various devices using Bluetooth (smartphone, tablet, laptop, etc.) 2.4GHz RF wireless (laptop, computer) and detachable Type-C cable for wired connection and use.
Easily change the modes of BT, wireless and wired, with the Mode toggle switch provided on the rear panel of the keyboard.
Built-in rechargeable battery with low battery indication and charging indication.
Support N key rollover. Built-in multimedia keys and Windows key on/off function.
2.4GHz RF wireless magnetic nano receiver – storage space on the back panel of the keyboard.
21 RGB LED backlit modes
5 LED speed modes (for non-static LEDs) and 5 LED brightness modes.
Sturdy structure for durability and premium PBT keycaps.
Wireless range up to 10 meters (without obstacles).
In the box
Mechanical keyboard
USB Type-C to USB A cable
2.4 GHz RF nano-receiver
key removal tool
User's Guide
Design and build

Zebronics ZEB-MAX NINJA is a mini mechanical keyboard. It is compact and on the other hand meets all gaming and everyday needs. The color we purchased is white, which gives the mini keyboard some treble as well as a sleek look on the desk. In everyday use, the mini keyboard is also practical and comfortable. From the design perspective, we can see all 61 key layouts among which most have multiple functions that can be evaluated by pressing different key combinations.
The keys are all white in color with all the traditional QWERTY letters and numbers placed in the exact locations similar to a full sized traditional keyboard. Most keys also have secondary functions marked in red at the bottom of the keys.
The keyboard is elevated naturally towards the top rows of keys from the bottom, which provides adequate typing comfort as it doesn't have the elevation mechanism like a traditional keyboard. On the front of the keyboard we get a USB Type-C port, which can be used to connect the keyboard to the computer using the connecting cable to use it as a wired one and can also be charged by same time. As we are talking about charging, we can also focus on the fact that this keyboard contains a built-in Li-ion battery which can be periodically charged when needed.
On the back of the keyboard we can find white rubber pads that keep the keyboard intact on the desk or on any surface while working. We can also see stickers that indicate the badges and numbers of this particular keyboard. Here you can also find a switch that allows you to switch between Bluetooth, wired and 2.4 GHz wireless modes of this keyboard. There is a Zebronics brand on the bottom side of the keyboard. The sides of this keyboard are clear.
Mechanical keys and typing
Zebronics ZEB-MAX NINJA comes with a configuration of 61 sturdy mechanical keys most of which have two or more functions attached to them. These keys are based around the blue switches that produce loud, satisfying clicking noises when pressed. It gives a good feel of a mechanical keyboard. Zebronics also promises N-Key rollover (NKRO) technology which ensures that every keystroke is registered, so that even if you type casually or seriously, your every keystroke is actually reflected accurately on the PC.
When it comes to typing experience, this is one of the most premium mechanical keyboards you can experience in this price range. Click sounds and response time, along with RGB lighting, provide a more satisfying experience while playing games or working with this keyboard.
play and work
Zebronics ZEB-MAX NINJA is a mini mechanical keyboard with RGB lighting. The blue switches on the other hand add more punch when clicking the keys. You can obviously play games on this keyboard and on the other hand, you won't have a hard time working with it.
RGB lighting adds more punch while gaming and more RGB settings provide a better experience while also working on the keyboard.
RGB
Coming to the RGB front, the Zebronics ZEB-MAX NINJA RGB comes with a ton of presets and RGB LED lighting modes. The keyboard comes with 21 RGB LED backlit modes where you can set the modes according to your moods. It supports 5 LED speed modes (for non-static LEDs) and 5 LED brightness modes.
The backlight strength is adequate, and generally it looks perfect at maximum brightness.
| | |
| --- | --- |
| Advantages | The inconvenients |
| Premium keyboard without flex | No software |
| Modern design | No software customization |
| Portable design | slightly heavy |
| Comfortable mechanical keys | RGB Brightness |
| Many connectivity options | |
| RGB and customizations | |
Why should you buy this?
Overall, Zebronics ZEB-MAX NINJA RGB is a good value RGB gaming keyboard. This keyboard is priced at just Rs.3,699 for the black variant and the white color option is priced at around Rs.4,100, which changes with the availability of the keyboard. if you consider the price, this is one of the most feature-rich wireless mechanical RGB gaming keyboards on the market today.
Zebronics has really created a great mechanical gaming keyboard on this budget with loads of features, and the typing or gaming experience is amazing. If you love mechanical gaming keyboards and want RGB as well, you should definitely choose the Zebronics ZEB-MAX NINJA RGB which also supports wireless connectivity, it also gives a clean look to your gaming setup on the desk.
If you're thinking of upgrading your keyboard or really need a mechanical gaming keyboard, this is the one you should definitely consider.
Buy it Zebronics ZEB-MAX NINJA RGB Amazon Wireless Gaming Keyboard: Click here