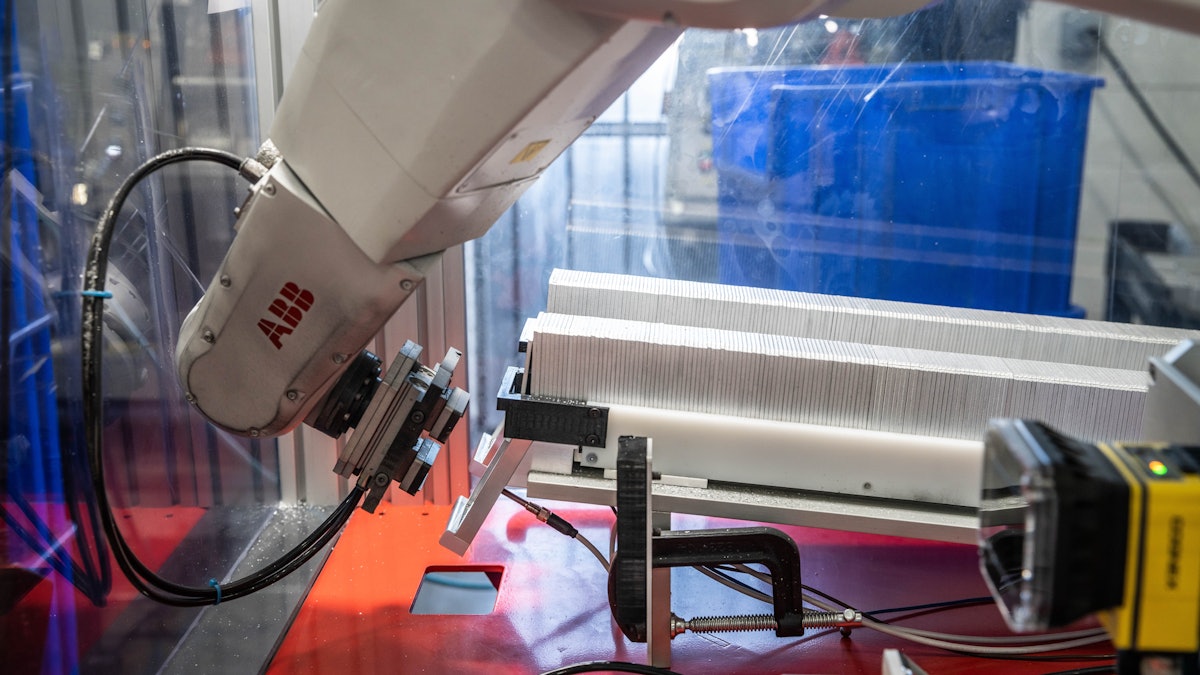 USA-made belts incorporate robotic cutting
BJ Minson disliked the imperfect fit and sloppy profile of standard belts he could find on the market, with the buckle and excess strap end protruding awkwardly from under his untucked shirt. So, while working on a master's degree in microfluidics, he started toying with designing a sleeker belt with a more precise grip.
Already blessed with a master's degree in mechanical engineering and a keen interest in product design, what started as a diversion from his current studies became a concern as Minson moved closer to a breakthrough design. Easy access to a laser cutter allowed a wide range of buckle concepts to be tested, and eventually the Eureka moment came, and Minson discovered the perfect buckle and belt design: firm fit, low profile, no holes and no strap flap.
Since a career in microfluidics is alluring, Minson put that aside and founded GRIP6 (www.grip6.com), a company based on the merits of his innovative belt design. Five years later, GRIP6, located in Midvale, Utah, has a seven-figure annual advertising budget, and an abundant volume of its belts and accessories is sold online and in more than 250 outlets in the States. -United.
Start of production
The first production was the proverbial garage-based operation, selling a few hundred belts a month. Once Minson added staff and ramped up the marketing engine, monthly volumes hit thousands and GRIP6 moved to a dedicated facility.
The highly crafted metal buckle is the key element of the belt's unique design, and its manufacture must be precise. The initial fabrication and finishing of the buckle was labor intensive, with employees using off-the-shelf processing equipment to cut, sand and finish each piece.
An engineer Minson hired in 2016 designed some processing equipment in-house to alleviate some of the manual load, and while they sufficiently increased throughput and minimized variable costs, each workstation was dedicated to a single loop design.
Minson describes a central point in his efforts to continually improve manufacturing processes: "Our in-house team did a very good job of designing equipment, but very often it was to manufacture a specific part. We got to the point where we maxed out this approach and needed something that would scale to a wider variety of products with the same quality and speed.
ABB
Explore robotic automation
Convinced that robotic automation was the right technology to pursue, Minson and his team sought a capable robot with advanced programming software, ideally working well with SOLIDWORKS, able to take a solid model and find a path along it. more complex edges. After extensive research, GRIP6 discovered that RobotStudio, ABB's simulation programming software, could be integrated directly into SOLIDWORKS.
With RobotStudio, GRIP6 could use the same robot to handle a variety of different loops, streamlining production and making it easier to introduce new loop designs. Producing loops with some sort of die-cut pattern or non-uniform outer profiles became much easier, leading to more creative designs and shorter development cycles.
Simulations created in RobotStudio are virtually identical to how a robot and auxiliary system components will operate on the factory floor, allowing users to optimize the system layout to achieve the necessary robot paths with the best cycle times.
Ultimately, GRIP6 purchased an IRB 1200 robot at the end of 2019 and purchased two more identical models about six months later. Two of the robots are cutting belt buckles and the third is in final testing for a finishing application of belt strap ends.
Loop cut
GRIP6 currently has seventy models of buckles for men and women that vary in size, design and finish. They both have two identical parallel slots inside each vertical edge, one where the strap is attached and one at the opposite end where the end of the strap is inserted to ensure the desired fit.
The production process begins with buckle profiles and their respective strap slots laser cut from a large sheet of aluminum. The "blanks" are then manually placed into a 250-unit capacity feed cartridge, from which a robot accesses one part at a time. The robot initiates the secondary cutting process by grabbing a loop through both slots and presenting it to a fixed router installed inside a protective box. The robot moves the edges of the loop around the router, fitted with a 90° milling tip, beveling a 45° chamfered edge along the entire outer edge on either side of the loop, pulling the loop out of the area machining after completing the front face, to reorient the loop to process the back face.
During the process, the robot also performs a full bevel cut along the inside of the two slots, which provides the friction that holds the length of strap in place in the absence of holes. Once completed, the loops are placed on a conveyor which takes them to a storage area for the finishing and painting station.
To provide the best cut quality, GRIP6 installed a Cognex camera in front of the base of each cutting robot, integrated with the robot controller.
Increased throughput, less waste
With cutting programs for each buckle SKU created in Robot Studio and uploaded to the robot controller, robots can easily cut different buckle patterns in a single production run.
When four power cartridges with a capacity of 250 units are loaded and staged, a single robot can operate continuously for almost twelve hours, cutting about 83 loops per hour. In 24 hours, the two robots combined can cut 4,000 loops, 33% more than the 3,000 five production workers could do manually in the same amount of time, with far less waste.