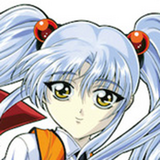 New artbook celebrates 25 years of Nadesico (and Gekiganger III)
25 years ago harem mecha comedy anime Martian successor Nadesico has gone hot with its mix of 1970s super robot tributes and real modern robot action. To celebrate the show's silver anniversary, an art book comes out with more than 400 works of art from the series.
The series premiered in 1996 and tells the story of a mecha anime fan named Akito who becomes a true mecha pilot in a battle against aliens. But the life of a heroic giant robot pilot is nothing like the cartoons, between the harem hijackings on the base ship and the very real danger in combat.
The art of the Martian successor Nadesico his works come mainly from CD and DVD covers, magazine artwork, books and merchandise packaging:
The art of Gekiganger III, the super robot anime in the universe (and eventual real-world OVA) enjoyed by Akito and his fellow pilot Gai.
A 25th anniversary event will take place at Shin-Bungeiza Cinema in Ikebukuro on 23 october, whose main event will be a projection of the years 1998 Martian successor Nadesico: The Motion Picture РPrince of Darkness. Series Director Tatsuo Sat̫ will be on site and presales of the book will take place.
The art of the Martian successor Nadesico is officially on sale 29 october, and will be available at Anime Style Online Store, Anime-style live events and other Japanese booksellers. Purchases made through the Anime Style website and live events will include a booklet of Nadesico masterpieces.
Source: Anime! Anime!