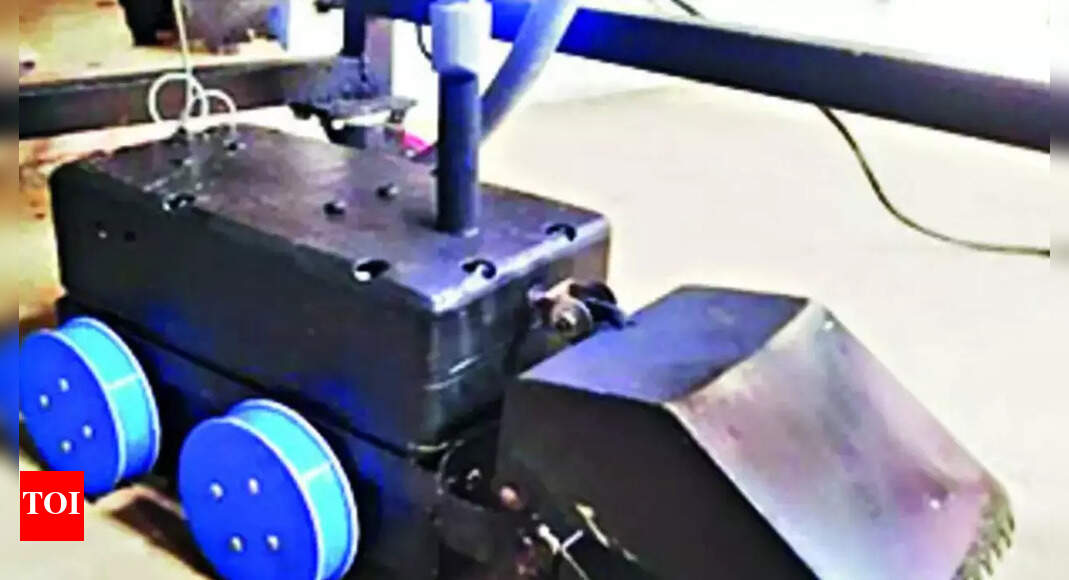 Kerala: Students build robot to clean sewers | Kochi News
The robot was developed for the panchayat Chottanikkara under the scheme "Unnath Bharat Abhiyan"
KOCHI: Students at Toc H Institute of Science and Technology (TIST), Arakkunnam, have developed a robot that can help clean blocks in drains.
The robot was developed for the panchayat Chottanikkara under the "Unnath Bharat Abhiyan" program of the Ministry of Education.
When local authorities expressed their need to find a solution to clean the clogged drains, students from the college's electronics and robotics department came up with "Tunnel-Rat", as part of their "Impact Lab" initiative.
The 'Tunnel-Rat' is a gutter cleaning robot that can monitor obstacles in drains, collect them and pull them out of the drain hole.
"Thanks to the remote control, we can send the robot inside the drain. It has an arm which can be used to grab the stuck waste and bring it outside. It is not a prototype, but a functional Bot that can be used directly. We demonstrated it to members of the local body, "said Deepa Elizabeth, head of the electronics department.
The college handed over the Bot to the panchayat officials. The UBA program aims to encourage higher education institutions to work with villages by embracing them and helping them solve their problems.
As part of the program, the participating institute selects local organizations, interacts with villagers and works in the field. They are to adopt five villages in consultation with district collectors for development activities under the UBA.
"We had a series of discussions with panchayat officials and department heads. Based on the discussions, we had submitted five proposals, three of which were sanctioned, "said Deepa Elizabeth.
FacebookTwitterLinkedinE-mail